I have such a sweet tooth, it's a wonder I haven't needed dentures yet. So it's no surprise that I love hard ciders. Before beer came on to the scene in the late 19th century with the arrival of German immigrants, hard cider could be considered our national drink. But Prohibition and the movement of our population from farms to cities ended it's reign.
Over the past few years, hard ciders have been at the center of a growing foodie trend and cider makers are getting creative with the brewing process and ingredients. My favorite brand that I've tried so far is DownEast Cider. I love their original flavor and Jeff and I both love their Cranberry cider, which we first experienced in a bar on our trip to Sleepy Hollow. We recently toured their Cider House located under the Tobin Bridge just outside of Boston.
When we first arrived, the scene was pretty quiet (we were there for 12pm tour on a Sunday – in a college town) but then the boombox was turned up, kids started filing in and the bar area quickly filled with friendly chatter as everyone tried the ciders on tap and played board games while waiting for their tour to start.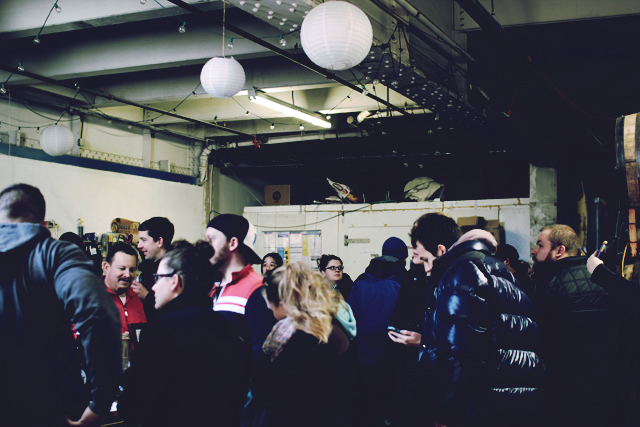 On the tour, we learned that the company was started by Ross Brockman and Tyler Mosher during their senior year of college. Downeast Cider is committed to using "only fresh-pressed juices and pure, natural ingredients" in their cider – which must be why it tastes so good!
The process starts with their own unique blend of apples varieties grown in New England. The apples are pressed at Box Mill Farm in Stow, MA and the juice is trucked 27 miles to their Boston Ciderhouse, where it is fermented in large stainless steel tanks. Another detail that makes DownEast Cider unique is that they ferment with ale yeast instead of the more commonly-used champagne yeast and leave most of their flavors unfiltered for a cloudy and deliciously juicy result.
Besides the free samples of course, one of the coolest things about the tour was hearing how the company is constantly experimenting and developing new methods and flavors.  They have been growing rapidly for the last few years, but their relatively small size has allowed them to be flexible with their process – almost all of which occurs right there in the Cider House. They have created seasonal cider blends infused with herbs and spices are and even created a "hard honey" blend, which is my new favorite.
Even though I described a lot of what you might hear on the tour, I highly recommend you check it out yourself – sometimes you can only try limited special blends at the cider house, and the company's enthusiasm for making something amazing out of an important local crop is infectious!