Last fall, I learned about an interesting local Travelzoo deal – an opportunity to go cranberry picking and tour cranberry bogs in Carver, Massachusetts. I was really looking forward to it but thought we'd be one of only a few people on the tour. When we showed up at the first tour stop, I was surprised to see lots of people of all ages assembling. I'm sure the gorgeous warm fall weather helped but I'll admit I was excited to see  how many other couples and families were  interested in this important New England tradition.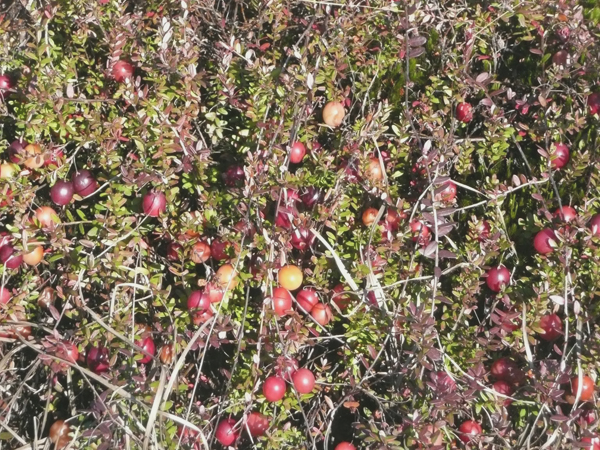 At the first farm, we learned about different methods of cranberry harvesting – wet harvesting and dry harvesting. Cranberries grow on vines in bogs which are a type of wetland made from alternating layers of sand, peat, gravel, and clay. When the bogs are flooded, machines comb through the water and agitate the berries which grow on vines anchored in the peat moss of the bog. Because cranberries have air pockets inside them, they rise to the water's surface once released from the vine and can be collected. However, this "wet pick" method is harsh on the fruit's delicate wax coating and cranberries harvested by this method are used primarily for processed juices and sauces. Cranberries are also harvested right off the vine without flooding the bog, with a tool called a rake that scoops the berries up off the vines. This dry harvesting method is more labor-intensive, but gentler on the fruit and therefore any whole fresh cranberries you can see at the store have most likely been harvested this way.
At the second farm, we got a chance to dry-pick cranberries, both with our hands and using the antique wooden rake. We jumped across the little canals that are used to filled with water to flood the bogs and I discovered that the peat was sturdier than I expected. We spent the next hour or so picking cranberries and looking for wildlife in the water.
The final stop on the tour was to Flax Pond Farm where we got to see an antique cranberry separator in action. This ingenious machine uses a ripe cranberry's characteristic bounce to separate the good berries from the bad. The cranberries are sent up a chute and then dropped down through several overlapping trays. If they don't have enough bounce in them to be sent into one of the trays, they are collected at the very bottom and discarded. The "good" berries are then sent out on two conveyor belts where they can be inspected further. Flax Pond Farm also sold several cranberry-themed products (from clothing to pancake mix), many produced locally.
To see this beautiful harvest yourself, visit the annual the Cape Cod Cranberry Grower's Association Cranberry Harvest Celebration or take a Cranberry Farm Tour with Colonial Lantern Tours of Plymouth, MA.
Another great place in the area to explore includes the Halfway Pond Conservation Area.