Maybe it was the face plant I did on the icy road while walking the dog, or the time my car spun out and hit a snowbank, but I am so done with winter (stop me if you've heard this before . . . ). One day I almost kidnapped the dog and Jeff and threw them in the car to just drive SOUTH, but my responsible side prevailed.
I really needed a warm and adventurous escape though, and soon remembered Tower Hill Botanic Garden. Tower Hill is the official headquarters of the Worcester County Horticultural Society, the third oldest active Horticultural Society in the U.S. In 1986, the Society opened the property at Tower Hill Farm to the public, and today Tower Hill Botanic Garden includes two subtropical conservatories, an educational center and library, several outdoor gardens, a historic orchard, and a farm to table cafe and gift shop.
When I called to make sure they'd be open, the kind woman on the phone heard the desperation in my voice and said, "Oh it's so Springy in here, you'll love it!"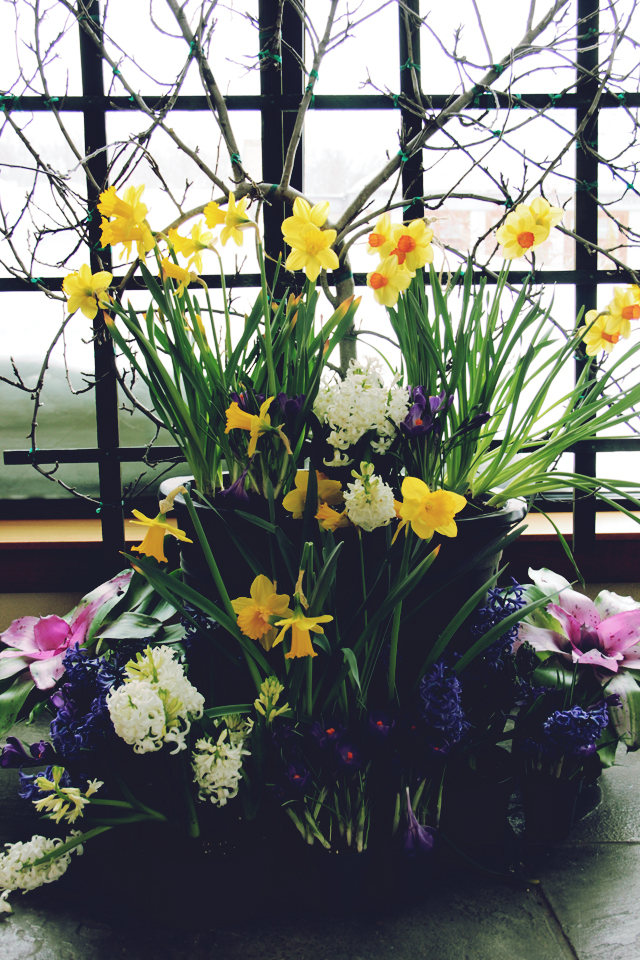 We arrived to the beautiful color and fragrance of Spring bulbs like muscari, hyacinth, tulips, and daffodils. Tower Hill was in the middle of hosting one of their signature events, Flora in February.
The long hallway that leads to the Orangerie was lined with several striking entries for a Spring Container Garden contest, including one I wanted to move into and one featuring terrariums by the amazing Seed to Stem shop.
We also visited the Limonaia to see the Camellia Show.
And strolled among the subtopical plants in the Orangerie to soak in the light, warmth and humidity.
The Flora in February Event included lots of fun activities such as lectures, crafts, and pressed flower demonstrations. The gift shop had an amazing selection of gifts and gardening resources – it was just enough to keep me holding out hope that Spring isn't so far away after all.
I am looking forward to returning in warmer weather to see the outdoor gardens, but if you too are a little desperate for warmth and plant life, go visit today!
P.S. I also recommend a visit to the Roger Williams Botanical Garden in Providence, RI.