Though it was very un-Bristolian of us, we decided to leave town for the Fourth of July weekend this year. Our friends Jen and Andy invited us to camp with them at Smugglers Notch State Park in Stowe and I was looking forward to a relaxing getaway and spending time in beautiful Stowe, Vermont.
In the interest of keeping it real, I have to say (with great shame) that I am not sure if I am still a "happy camper." Maybe it was because we brought the dog (who was so well behaved but requires constant supervision), or the style of "glamping" I have slowly evolved to need, but I was definitely more stressed out than I should have been with the packing, unpacking, setting up and cooking all the crap I felt the need to bring. I might be graduating to a trailer for my next trip. . .
But I did my best to put my big girl pants on and remember how lucky I was to be in a special place with such great, fun people. And we had a blast otherwise!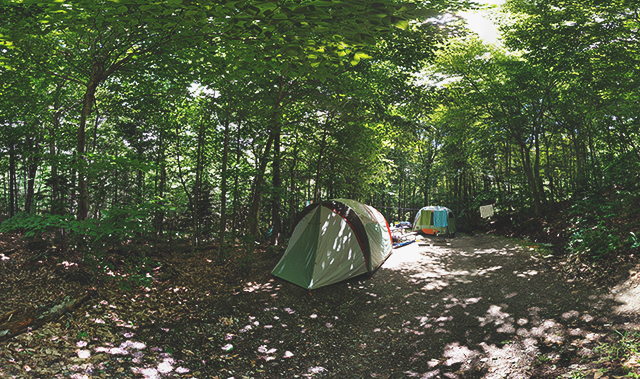 I freaking love Vermont. I feel more peaceful the minute we get on those country roads, and Stowe has so many incredible hiking trails, waterfalls, and restaurants – it was a feast for the senses.
On our first day, we brought the dogs to Cady Hill Forest and the six of us wandered through gorgeous fern glens and shady groves. We saw lots of mountain bikers who were so friendly despite us being on their turf.
I am more of a cocktail than beer person, but it was so fun to visit the brand spanking new Alchemist brewery building. There was a ton of buzz and excitement (which seemed to extend throughout Stowe), no one minded waiting in a long line to get their cans – my sources tell me their beers are all delicious!
We also visited Shelburne Vineyards and had a pizza picnic, pairing their Rose with Folino's Pizza (who shares the building with Fiddlehead Brewery across the street) – which was a divine combination!
Umm . . .later we also got cheese at the Cabot Annex and chocolate from Lake Champlain Chocolates . . .(I said it was a feast for the senses!)
That's the thing about Stowe and the surrounding area – if you want an incredible getaway, just book your accommodations. Once you arrive, you can spend the day driving around the gorgeous scenery and stumbling upon the most beautiful and delicious things! I think it would take years to experience it all.
One day, Jeff and I drove south towards Vergennes, VT to see Lake Champlain. I was sad I missed a chance to visit the famous Vergennes Laundry, which was closed for a renovation, but I know we'll be back soon.
We visited Button Bay State Park (thanks for the tip, Tripadvisor!) to see Lake Champlain and took a wonderful little walking trail that lead us to amazing lake views. They even have a tiny little nature center for families with kids.
Our campground was right next to Bingham Falls, which was a great spot to cool off.
There were endless fireworks displays to choose from due to the holiday weekend – but we ended up staying close to camp. We got an insider tip to hike up the adjacent mountain peak of Stowe and watch the fireworks from the ski trail.
I don't think I'll ever forget sitting there in the open field of the ski trail, watching the fireworks light up the sky, while fireflies lit up the field around us, drinking (more) Rose and occasionally whacking the aluminum dog dish to scare away any bears 🙂