A few weeks before Mothers Day this year, I started hearing a little bit of buzz about a new flower farm named Wicked Tulips Flower Farm. I had forgotten all about it when I came across Christine Chitnis' post, and promptly booked my own tickets.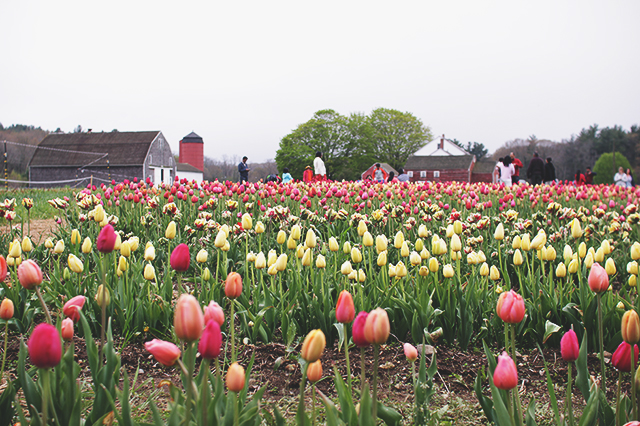 Wicked Tulips Flower Farm was founded just last fall (2015) at the historic Snake Den Farm on land that is leased by the Rhode Island Department of Agriculture. Founders Keriann and Jeroen Koeman buy certified organic tulip bulbs from Holland, where Keriann once lived her with family. They develop and sell organic tulip bulbs through their other business – EcoTulips, which you can order online for fall delivery and planting.
For a few weeks each Spring, you can visit the farm and pick your own tulips. To help with crowd control, you must first purchase an entry ticket for a particular day (ideally before you arrive, and be sure to check their website for the latest info). The U-pick field is closed for this season, but you can still order your bulbs online and sign up to be notified when the 2017 U-Pick season is open.
We arrived the Saturday before Mother's Day and it was as busy as you'd expect. Lots of people were there excitedly wandering through the fields and taking adorable family photos among these beautifully-colored flowers.
When you first arrive, you can walk through the show garden to see all of the tulip varieties they grow, before grabbing a bucket and heading out to the adjacent U-Pick field.
To pick a tulip, you just grab the stem as low as you can and pull straight up. The tulips had beautiful long and strong stems, they seemed perfect for flower arranging. When you are finished picking your tulips, the farm staff can help you clean and wrap them up. We picked 25 tulips to give to the wonderful moms in our life – and learned we had earned a free (delicious, locally-roasted) ice coffee, which made me ridiculously excited. This was such a fun activity, one that supports local, sustainable agriculture and gets you some beautiful blossoms to take home!
Visit the Wicked Tulips Flower Farm Website to learn more about the farmers and stay updated on the next season!