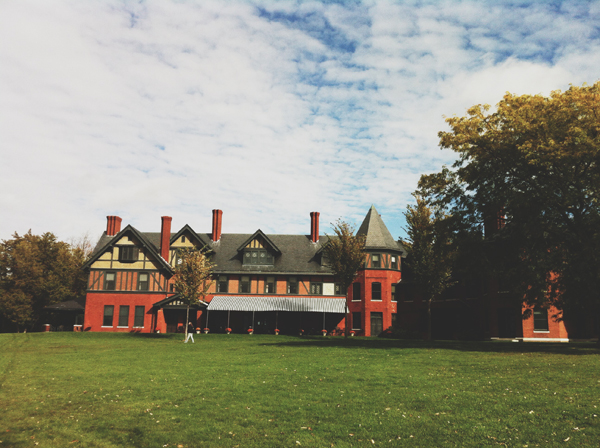 I'm not going to say much about Shelburne Farms, except GO THERE NOW. Actually, most of the property is closed November through April, but MAKE YOUR TRAVEL PLANS FOR NEXT YEAR NOW.
I had heard that Shelburne Farms was awesome, I knew it was a large working farm with lots of great educational programs. But nothing could prepare me for the beauty and serenity that greeted me as soon as I arrived on the property.  After I returned home, I learned that parts of the scenery were intentionally designed to unfold before you by famed landscape designer Frederick Law Olmstead – who also designed the landscapes at Rough Point. I was there for a one day workshop (more on that later) but the place enchanted me. And I didn't even explore the walking trails, the Dairy Barn, Market Garden ,or Children's Farmyard, I want to save those for when I can return with Jeff.
Many Shelburne Farms staff members were present at the conference – they were all so friendly, hardworking and committed to responsible farming and environmental stewardship.
I didn't dare try to take many pictures – an iPhone couldn't do it justice. But here are a few peeks . . .