The Rhode Island oyster aquaculture industry has grown the past few years, with over 6 million oysters sold for consumption in 2013 (RI CRMC Annual Aquaculture Report). Although this sector is growing and local oysters are becoming more popular with consumers, many regulatory and financial barriers present themselves to beginning and current farmers.
One of the great things about oysters (besides their amazing adventurous briny taste) is that they can be a sustainable choice for seafood production. As filter feeders, oysters clean pollutants and algae from our waterways. A single adult oyster can clean up to 50 gallons of water a day. Wild oyster reefs create habitat for fish species, and their shells can be used in habitat restoration efforts. Another really cool thing about oysters is that like wine, their taste is a reflection of the place they were grown – they have that terroir. Or, more specifically, merroir.
I had been curious about the process for years and was so grateful when Chris of Seapowet Shellfish offered to take me along one day while he harvested some oysters.
We met on a very cold day in December. To be honest, I almost considered wussing out, but didn't want to be rude. The drive down to South Tiverton was gorgeous (as it always is, no matter the weather) and I was soon glad to be out of the house and in this beautiful winter landscape.
Chris's oyster farm consists of several cages suspended off a pier. When I arrived, he had already collected a few bags and was processing about 160 oysters for orders that day from the beach.
The oysters are poured into a tumbling device to remove the algae and barnacles growing on their shells. Almost all of Chris's equipment was handmade and adapted for oyster farming.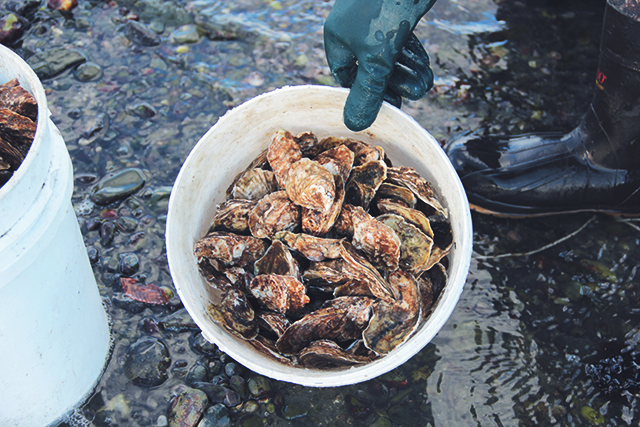 I have worked with commercial fishermen before so I should know better than to romanticize it, but oyster farming had always seemed like such a nice job. After witnessing even just a small part of the harvesting process I now know that nice isn't the appropriate word. If Chris wasn't retiring, he'd be out year-round to fill his customer's orders and make a living. And like any nature-dependent job, that can lead to lots of headaches, such as when your boat is set adrift by ice or your oysters are infected by a marine parasite. But I can't deny that Chris possesses an intimate knowledge of local wildlife and seasonal processes and gets to experience our marine environment in a way that many of us never will.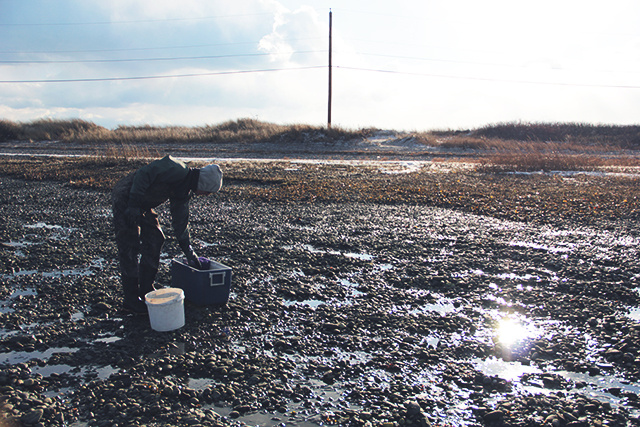 Though Chris is retiring, you can find other local oyster sources at Farm Fresh RI.
The Coastal Resources Center at URI has recently completed the Shellfish Management Plan, a living document that proposes solutions to support a sustainable aquaculture industry in the state.
P.S. – It's on the other side of the state, but the Matunuck Oyster Bar is an amazing pond to plate (and farm to table) restaurant, and they give tours of their oyster farm! And I am so excited to try the recently opened Bristol Oyster Bar.