Way back in April, I did something a little crazy. I signed up to speak at a Vermont Agritourism Conference on the topic of "Using Digital Media to Capture and Share Your Farm's Unique Assets." I have been so interested in and inspired by the work of the Agritourism movement in Vermont – and wanted to get involved in a more meaningful way. I also needed to challenge myself to put myself out there a bit more. I really want to work with farmers and small local businesses who are contributing to more sustainable communities, but I am still ridiculously nervous to approach people!
Since the last conference in 2013, the UVM Agritourism Collaborative has made great strides in assisting farmers with developing tourism opportunities on their farm, an act that helps them further engage with their customers and provides an extra source of diversified income. You can now find an incredible wealth of information on the UVM Extension Agritourism website, including a series of best-practices and assessment tools to decide if agritourism is the right fit for you and your farm.
It took much longer than I anticipated to prepare my presentation, but it was totally worth it. The conference was great (just like the last one) and this time I was able to drive up early to participate in a day's worth of farm tours. Our first stop was a visit to Hathaway Farms in Rutland, VT, where we got a hilarious and educational lecture on the good and bad of operating the largest Corn Maze in VT!
After Hathaway Farm, we went to Green Mountain College, for a delicious lunch made with local produce and a great tour of the college's farm. The farm spans 2 acres and is run by students, who work with the university dining staff to provide produce and compost waste. I have no regrets, but man it must be great to go to college there!
After a delicious lunch, we headed to Wellsmere Farm and Larson Farm. Larson Farm is a dairy operation and they have been very active in helping change local regulations to make high quality raw milk available to their customers.
These farms were diverse in their methods, products and landscapes, but common themes among them were a passion to be part of the community and to educate every visitor to their farm. Things have changed so much for farmers over the years, and these farms have done their best to adapt to shifting economies, farming practices, and consumer tastes. The farmers we talked to were the first to admit that not all agritourism ventures bring in a profit but that educating visitors about their practices is an important part of their larger mission.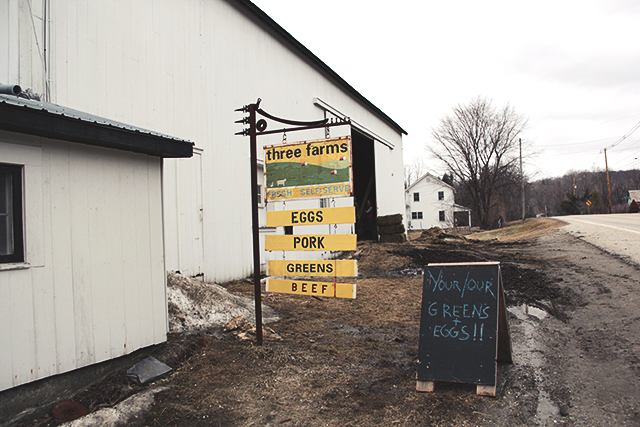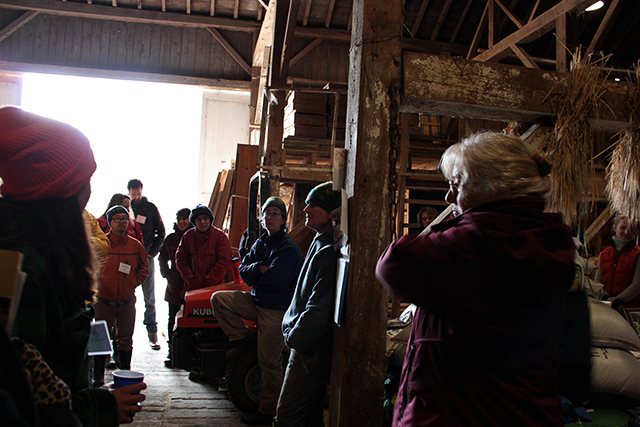 Our final farm stop was to Someday Farm in East Dorset, VT. Someday Farm is extremely committed to engaging and educating their CSA customers and local residents about sustainable agriculture. They write for local publications, give presentations at area schools, host tours, and also offer a fun scavenger-hunt type activity for visitors to the farm.
At the risk of sounding ignorant and or rude, I am going to be honest and say that on this cold, grey day I was thinking some of these farms were just a bit older looking, with some paint peeling on the barn and old equipment accumulating in the outskirts (and it was mud season). But then I realized, I was comparing them to places like Shelburne Farms and Stone Barnes Center – beautiful and important working farms, but working farms with endowments and the ability to hire lots of help for agritourism activities. Many of the farms we toured have been handed down for generations. They don't charge an entry fee or have a professional graphic designer on call. They've inherited giant, historic buildings that may have been leftover from a different type of farming. Every single farmer we spoke with that day was honest about the fact that they don't know if their agritourism efforts thus far have generated a substantial profit (if any) – especially considering all of the time it takes away from production. But what was most striking is that they all were so committed to educating their customers and having their farm be part of the community – a place where locals and tourists can come and relax and taste and learn about amazing food and how it's grown, that they do it anyway. And it was clear that they do it with the same passion they use to manage their farms.
One last note – this conference was in the Rutland Region, an area with lots of exciting things happening in the agritourism and local food movement realms. One such thing is the existence of the Vermont Farmers Food Center – where part of the conference was held. This building now serves as an "economic incubator in the development and promotion of local food marketing systems" and is home to an awesome winter Farmer's Market! During my visit, I stayed at Homestyle Hostel and ate at Mojo – both were incredible experiences and I can't wait to return!