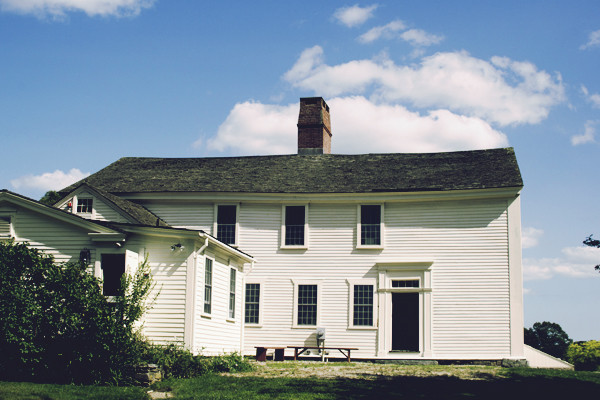 Smith's Castle is not a castle at all, but a historic home on a historic piece of land that was once the site of Roger William's (the badass founder of RI) trading post. The "castle" was given it's nickname because the original structure, which was burned down in a 1676 conflict with the local Narragansett tribe, was thought to be grand and fortified.
A new home was erected in 1678, and the location continued to serve as a hub for commerce in addition to being a working farm. The house was abandoned after the death of it's last owner in 1937, and soon fell into neglect. In 1948, the Cocumscussoc Association was formed to maintain the property with the following mission,
Smith's Castle will focus on teaching people the history of Rhode Island's development through three eras: Native American days, early colonial days, and the plantation era. Our teaching will be supported by physical evidence of Rhode Island history that is connected to Smith's Castle. 
I had never been to Smith's Castle before, but I knew it was the site of some beloved local events including an annual strawberry festival and harvest festival, as well as a special spot for weddings. I wasn't able to tour the house museum that day, but the grounds are open and I stopped by during a lunch break.
I was particularly interested in seeing the dye garden. The Smith Castle website tells us that most dyers did not cultivate these plants in their gardens, they collected them from the wild or imported them. But the dye garden provides an excellent example of native species that were used, including tansy, sunflower, marigold, solomon seal, and more.
The larger garden on the property is not a restoration of the original garden, but has been created to resemble a plot common to the 18th century. These gardens were set away from the house to catch the sun, surrounded by a fence to keep the cattle away, and paved with gravel, edged with brick, and lined with border plants such as lavender.