Casey Farm is a historic, working farm in Saunderstown, RI. The property is situated on a rolling hill overlooking Narragansett Bay, and driving by this picturesque farm is the highlight of my daily commute.
Casey Farm's Coastal Growers Market was voted one of the top 5 Farmers' Markets in New England by Yankee Magazine. My friend Kendalyn invited me to join her last weekend for Tomato Day, a special event they have each summer at the Saturday market to celebrate the bounty of summer tomatoes. I showed up right before opening on that gorgeous late summer day, and the parking lot was more than half full.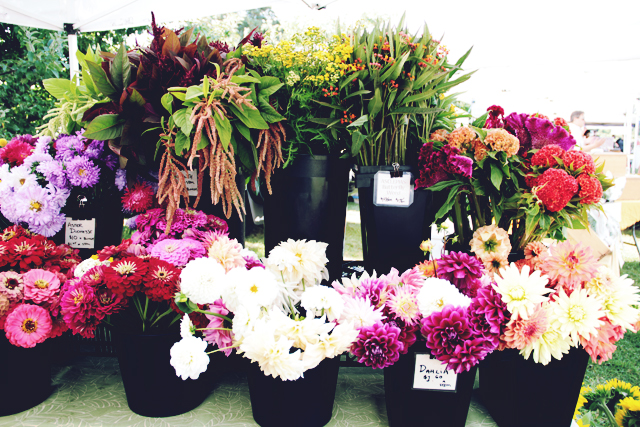 I waited in the line already forming for the Tomato Tasting event as volunteers furiously finished setting out chopped tomatoes, plates, labels, and toothpicks. I could hear people behind me getting a little impatient to get on with their Saturday plans, but of course no one left the line, not when there was a giant 30-foot table of farm fresh tomatoes waiting for us.
Many of the colorful varieties showcased at the event are heirloom tomatoes. An heirloom vegetable is a type of seed that is at least 50 years old, many of which are older and have been passed down for generations. Heirlooms are so fun to grow (and eat) because they have been bred for delicious and unique tastes and appearances, not to be able to survive being shipped across countries. We were each given a list with the name of every variety presented and note about which vendor at the market was selling it.
I think my new favorite tomato is the Striped German, it was a beautiful yellow tomato with red stripes (it looked almost like a peach!) and was super sweet.  And I am so glad I got to try the Black Prince variety – I planted it my garden for the first time this year but don't think the plant will survive long enough for me to eat the fruit (I've been a bad gardener this year).  It had an awesome and complex, almost savory, flavor.
After all of the tomatoes came some extra dishes donated by local vendors, such as a delicious pesto, tomato and roasted corn Pizza from Olga's Cup and Saucer and a sweet and refreshing basil ice cream from Susanna's.
This event was such a great way to celebrate and savor one of the best parts of summer in New England, and I hope to go back next year, or maybe even host my own Tomato Tasting day!