As I said in my previous post, I have been following the Slow Flowers movement with great interest over the past year or so. One day I was reading the Field to Vase blog and was delighted to find out that there was a florist in my area who is championing the cause.
The Local Bouquet is a floral design studio based in Little Compton, RI, that is run by best friends Mary Kate and Maureen. They are committed to using only locally and domestically grown flowers in their arrangements, which are inspired by the seasons of nature.
I was so excited to participate in their "Set the Table" class – a workshop for learning how to make a beautiful Thanksgiving centerpiece using seasonal materials. The town was dark and quiet when I arrived at the listed address and at first I wasn't sure if I was in the right place. But soon I noticed candlelit lanterns leading the way down a gravel driveway towards a garage with warm light and laughter spilling from the open door.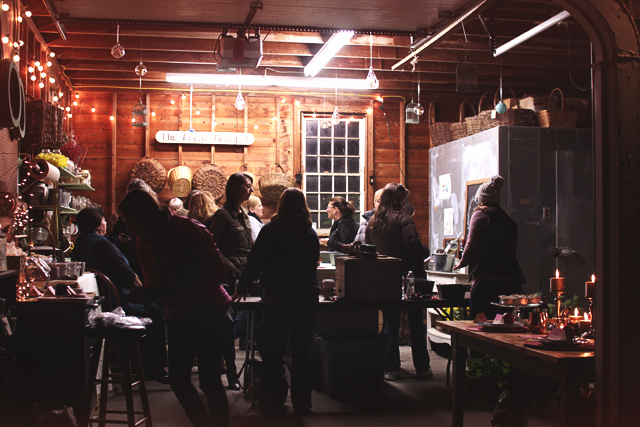 The Local Bouquet Studio is decked out with so many cozy touches – cafe lights, hand-painted chalkboards, and vessels of all shapes and sizes lining the wall. This evening Maureen and Mary Kate had put even more thought into the setting – there were calligraphed nametags by Rachel from Strawberry Small Works Studio and a delicious assortment of appetizers made with local ingredients from Sakonnet Farm such as tarts, mini-pies, and amazing assortment of jams in enticing flavors like spiced pear, carrot cake, and caramel apple.
Once again, I was surprised by the variety of flowers and foliage available this time of year. Many items were foraged locally such private berry, different species of evergreen branches, dried hydrangeas and sedum, but whatever wasn't local came from other growers in the US, such as queen anne's lace, stock, and sunflowers.
After a quick lesson in using greens to create a base structure for the arrangements  – we went to town. The Local Bouquet girls provided us with so many beautiful embellishments such as golden dried hydrangeas, fresh mini pears and apples, and dried lotus pods. This is only my second floral design class but I am sensing that any time you gather a group of women together in a room surrounded by gorgeous flowers, drooling and a giddying excitement ensues. It's amazing how unique each person's arrangement turns out even though we were all provided the same materials.
As they intended, the class was a perfect way to step away from the busyness of Thanksgiving planning to enjoy the finer moments of the season and create something special from raw natural materials. I like imagining all of the conversations these arrangements will spark – about the creativity of the designer and about the importance of using locally-grown flowers. I believe there is still room in their annual wreath-making class, check the Local Bouquet's events page for more information!
Side Note: I realize I am publishing this as many are already on their way out the door to get started on their Thanksgiving plans. I just want to say Thank You as always for visiting me here. I wish you and your families a happy, healthy, and restorative Thanksgiving!