Blithewold is a historic 33-acre summer estate overlooking Narragansett Bay in Bristol, RI. The mission of the nonprofit organization that maintains the property is to "preserve New England's finest garden estate through excellence in horticulture and historic preservation, and by our example to teach and inspire others."
I've been to Blithewold before, once for the famous Daffodil Days and once for s'mores and a cozy bonfire on a snowy winter night. But after visiting on a recent sunny September day, I can confidently say that you haven't seen Blithewold until you've seen Blithewold in the summer.
Yankee Magazine named Blithewold one of the 5 best garden estates in New England. Since it was late summer, I thought the gardens would be mostly spent but I couldn't have been more wrong. There are several distinct garden areas spread throughout the property and the recently restored gravel pathways take you on a beautiful meandering walk through them all.
The vegetable garden is used to grow food for donations to the East Bay Food pantry as well as a teaching tool for Blithewold's visitors and summer camp attendees. Educational lectures called "Mornings in the Vegetable Gardens" are hosted throughout the spring and summer, and detail the techniques used to produce that wonderful organic vegetable garden, including companion planting, succession planting, and composting. Can you spot the okra below? I'd never seen it on the plant before!
The Display Garden is used to try out new species and sustainable planting techniques. Despite the traditional design of the house, these gardens are a wild riot of color and I love that the staff is encouraged to be so creative and experimental. In the summer, unique tropical species that are normally in the greenhouse are set outside too, including banana and citrus trees, begonias and a huge pitcher plant.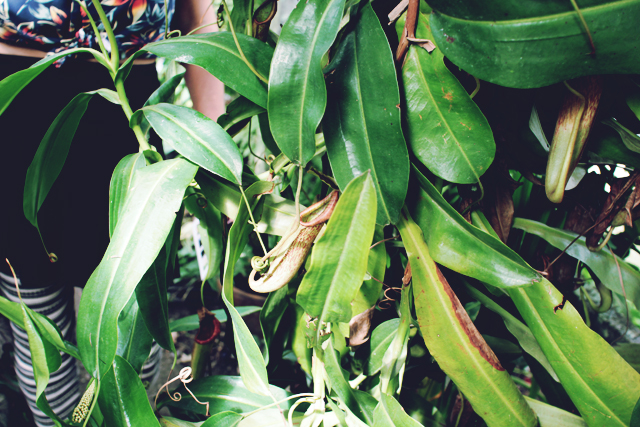 The Fresh Herb and Salad Garden has herbs and greens such as colorful Swiss Chard interplanted with beautiful perennials. I couldn't get over how vivid the colors in this garden were and must have taken photos of it from every angle. The gardeners post a list of observations from that week in the garden, such as what the local critters were doing, and what's recently come into bloom – it's such a nice touch!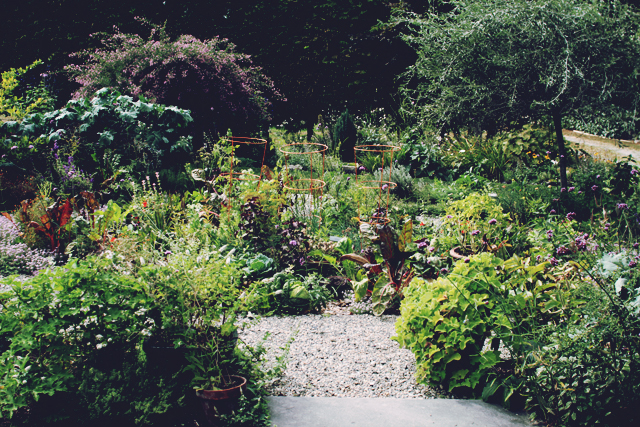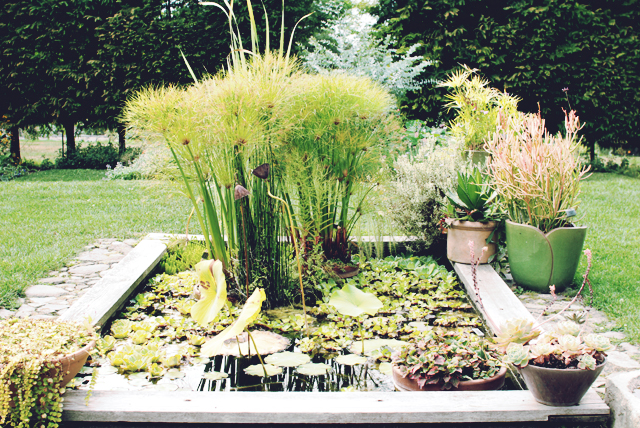 The Pollinator Garden includes a lovely home constructed for beneficial pollinators such as bees and wasps. Blithewold's Interpretative Horticulturalist Kristen Green recently published an awesome book called Plantiful: Start Small, Grow Big with 150 plants that Spread, Self-sow, and Overwinter.  It was really fun to see her work in action after reading the book last Spring.  After this visit, I've decided that I just have to become a member, Blithewold has fun programs year round and it's a great place to advance my gardening skills!
PS – Here's a peak inside one of the greenhouses and what the gardens look like in early spring.